Get Started
This course is currently closed
Welcome to Creating Regenerative Livelihoods (CRL) – Part 1!
We are glad to have you here and thrilled that you are ready to explore the ever-growing band of dynamic and proactive people who understand that creating our own livelihoods, congruent with values and goals to do with ecological and social regeneration, is good for the planet, good for society and good for ourselves.
Some of you will have already worked through our short, free course called Regenerative Livelihood by Design (RLD). Now we use the CRL course, both Part 1 and Part 2 (coming in 2 weeks time) to repeat and extend the ideas. We like a little repetition as it is quite likely your thinking may have developed since the first time around.
And, with activities like the Lean Canvas, there is much to be gained by treating this as an incremental, improve-it-as-you-go opportunity.
Course Navigation
Our courses are organized into Lessons. This course has 4 lessons and you can see these in the Course Navigation menu at the top of the sidebar to your left. It looks like the image below.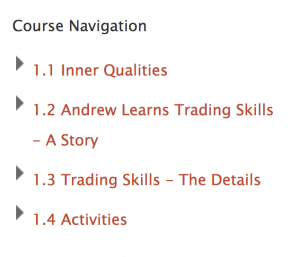 Each Lesson is broken up into Topics (you can think of these as pages), where you will find the course content. The Lesson "1.1 Inner Qualities" has 3 Topics that are revealed when you click on the gray arrowhead, like in the following image: –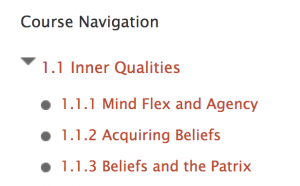 At the end of each Topic, you will find a 'Mark as Complete' button at the bottom of the page. Please click the "Mark as complete' button to record that Topic as complete and so that you can move to the next one. If ever you cannot proceed it is likely that one of these 'Mark as Complete' buttons has not been clicked.
The following graphic shows the basic structure of the course, which is designed around the AQAL  (All Quadrants, All Levels) from Integral Theory. We will learn more about this model later, which consists of 4 quadrants, but for now, you can note that this first course focuses on the top 2 quadrants: Upper Left (UL) and Upper Right (UR).
Upper Left is described as 'the individual interior' and means our internal processes.  Upper Right is described as 'the individual exterior' and is about how we show up in the world.
Don't worry too much about what all that means if this is the first time you're coming across this model, we'll provide you with more info later on. For now, just have a quick look at the structure so you know what to expect: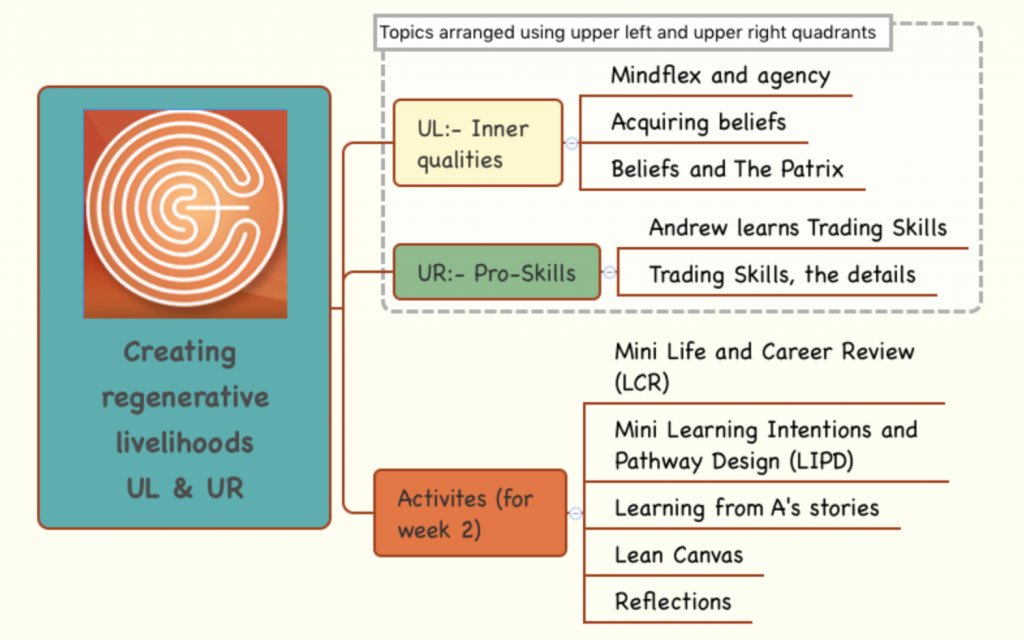 Webinars
You can opt to join any (and all) of our famous participatory webinars.  During these, we'll run through some aspects of the core content, add some new thinking, answer any questions you have and hear your reflections on the content.
Make every effort to come on these as they are a delight.  This is where you get to know your support team. Your colleagues, including Gaia U staff, will love to hear your voice and your thinking. Links to get to the webinars show up in the  ##### esd-general channel in the workgroup here all-gaiau.slack.com (where ##### indicates the year and month of your Cert. ESD cohort).
Recordings of these calls are posted to that same Slack workgroup, linked above, usually one or two days after the call.