This holiday season can be a trying time for those of us moving away from materialism and into regenerative practices, but if we tap into the original spirit of the season, the joy of giving and connecting with one another, there is room for profound transitions. Here at Gaia U, we wanted to round up the year by sharing the stories of our two newest scholarship associates supported by our growing network of donors, and bring you the joy of knowing your donations and continued support make a difference in the world. Vida and Kyle are also heading up the student-led fundraising campaign along with a great team, so expect to hear more from them in 2019.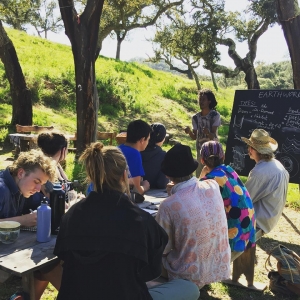 Kyle Smith's Story
I am a regenerative horticulturist, permaculture designer, educator and p(l)esant farmer passionate about conserving soil ecosystems, plant propagation and small-scale regenerative agriculture.
After spending 2 years working at the Kirstenbosch Botanical Gardens in Cape Town I realized the importance of conserving natural ecosystem while providing basic human needs. This interest and learning pathway led me to the Panya Project Permaculture Education Centre in Northern Thailand.  During the 3 years, I spent at Panya I was the perennial plant manager and a long-term community member. I facilitated numerous Permaculture design courses, organic gardening, and natural building workshops.
I am currently part of a design collective called Surplus Permaculture Design, the scope of our work includes ecological design, natural building, education, and humanitarian work. My main focuses are designing and implementing small-scale regenerative agriculture systems that aim to provide livelihoods while conserving indigenous plant species, and rehabilitating degraded ecosystems.  Additionally, I facilitate Permaculture Design and organic garden courses that empower, build capacity and develop strong agency among course participants.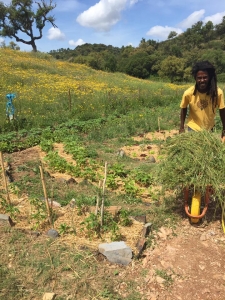 We are also currently working on a project with the Blueprint Alliance developing a Regenerative Resettlement Toolkit which will serve as a resource for the humanitarian sector. My areas of focus include food systems, regenerative livelihoods, and natural resource management.
Recently I have taken over the management of WeTheTrees, a crowdfunding platform that aims to create planetary regeneration through community philanthropy. Currently, our work provides regenerative practitioners with alternative sources of funding and helps to bring awareness to the emerging new economy.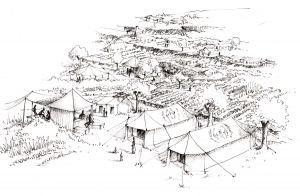 Kyle's Message of Gratitude:
Greeting to the Gaia U Family

The power of community always inspires and amazes me, and it is no different within our Gaia U family. This leads me to express my gratitude and appreciation sincerely to the Gaia U family for contributing to the Climate Steward Scholarship. This scholarship provides access to a network of support that inspires and motivates so many changemakers around the world including myself.

After starting at Gaia U, I have felt the support which the network of changemakers provides, and have gained clarity and purpose in my everyday life allowing me to be more competent and effective. The clarity I am experiencing is partly due to the first part of our course, developed from Andrew Langford's new book EcoSocial Design, a highly recommended read available here.

Thanks again for supporting the scholarship fund and empowering me to build my capacities in becoming more effective in contributing to creating a regenerative culture. Without the support of our beautiful community, myself and many other associates now and in the future would not have the opportunity to create the change we want to see.

One Love,

Kyle

MSc Candidate and Scholarship Student, Portugal
Kyle B. R. Smith lives in Portugal with his wife and two children. He's a committed dad who splits time between raising his kids in a holistic lifestyle and building a better future for all life through his work in permaculture and regeneration.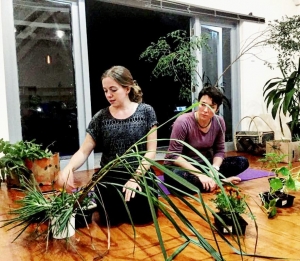 Siobhan Vida Ashmole's Story:

I'm a South African Regenerative Practitioner and budding Social Entrepreneur focused on the ethical cultivation of medicinal plants and the psychology of transition using ecotherapy. I have been learning and teaching Agroecology and Permaculture as a means of social (r)evolution and healing our relationship with the world for the last 8 years. I've also been active in several alternative food network projects. I see food as the cornerstone of social change, the place where I can make a difference through sustainable agriculture, fair farmer's markets and guerrilla gardens. A few years ago, I started focusing on the healing aspects of food growing and medicinal plants. I had trained as a homoeopath and herbalist and I found this place where my passions and my training intersected: medicinal gardens.
In 2015 I developed a social enterprise called Bliss Herbals growing endangered indigenous healing plants, producing natural cosmetics and herbal products, and empowering rural women to become micro growers using regenerative agriculture techniques. A year later, we were chosen as one of the Top 10 Innovative Startups in South Africa through the joint Technology Innovation Agency/Swiss Embassy Venture Leaders program; and flown to Zurich to participate in world class training and networking.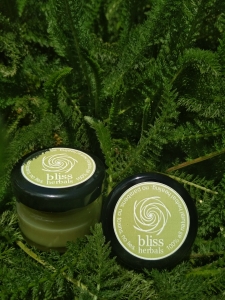 I've consulted to NGOs and Corporate Social Responsibility programs on community and school food gardens, land rehabilitation and ICT4D solutions for farmers. Most notably I worked for Kandu Data and The Open Food Network, as well as The Fair Food Co. which aims to pair rural producers with urban buyers, so you can order local organic vegetables like you'd order an Uber.
I have a strong connection to helping people find purpose at this seemingly apocalyptic point in our history. There is so much despair, I'm really passionate about finding the hope and turning that hope into action for a fairer, better world. I've found Ecotherapy, and specifically Joanna Macy's Work That Reconnects, as well as the concepts of Deep Time and Deep Ecology to be particularly great tools for this. I co-facilitate an online women's circle that offers these practices of honouring our pain and connecting to our past and future ancestors as a means of re-establishing priorities and making wise decisions.
Whether it is through gardening and teaching someone how to grow awesome organic food, helping them heal long-term suffering through a great herbal product, or empowering someone through entrepreneurship to chase their dreams; supporting people to participate fully in The Great Turning is my core goal. That gets me up in the morning. And coffee, lots of coffee!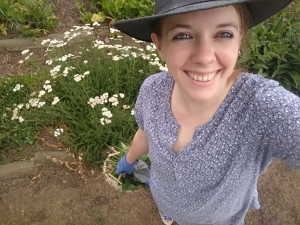 Vida's Message of Gratitude:
"Wow! The Gaia U family has blown me away with your awesome responses of donations, outreach and loving kindness from our first campaign. I am resoundingly grateful, not just because I helped coordinate the incredible team of associates who made the campaign possible; but because your donations have helped to fund my own learning path here at Gaia U! Learning with Gaia U has meant being connected to a global family of changemakers and I have felt inspired and on fire every single day since starting just over 6 weeks ago. Community and accountability are everything when you're working in tough conditions, in isolated places, to do something that has never been done before. This is how you're changing the world Gaia U fam! This is how you've changed my world!

Thank you for giving us the motivation to keep striving for big things with our ambitious plans for associate-led action into 2019. All of us on this team want to continue serving you in the best way possible and bring us together in Gaia U as a force of regeneration for our Earth."

In loving gratitude,

Vida
MSc Candidate and Scholarship Student, South Africa
Siobhan Vida Ashmole lives with her husband and two step-children in a traditional Sesotho village in the Drakensburg mountains of South Africa. She spends her days working from home with her husband on community and agroecological projects, and in the research garden tending to her medicinal plants.