This post is also available in: العربية (Arabic)
MODIFIED NEPALI BIOINTENSIVE
ORGANIC PLANTING SYSTEM
EVERYTHING ORGANIC NURSERY ZORO PROJECT
How to make a 60 cm deep bed
For soil improvement and high yield
Patlekhet, Kavre, Nepal www.everythingorganic.com
MODIFIED by Gaia U international 2021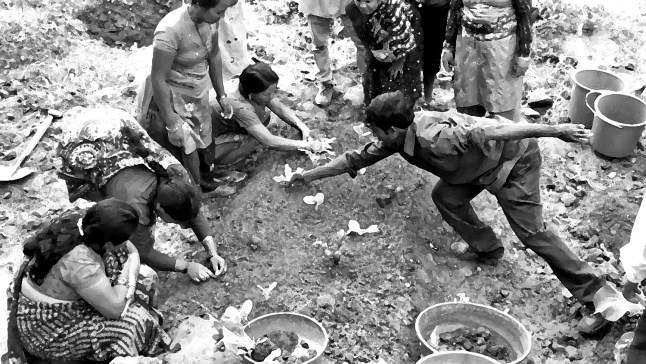 Materials required:
Dry grasses, dry leaves, dry branches, about 400 liters

Green grasses, green leaves, other green biomass, about 400 liters


N

2 + nutrient stuffs – examples; seed cake, wood-ash, about 4 to 6 handfuls

Begin with laying out the bed – 120 cms is a good width and any length. All data based on beds 10m.sq area
BEGIN LEVEL 1: Layer 1-BROWN, Layer 2-GREEN, Layer 3-N2 stuffs + ASH, Layer 4-SUBSOIL
10 cm Topsoil goes to one side
Subsoil goes to other side
Begin 10 cm Brown: Up to 2.5 cm thick sticks & stalks
60 cm deep bed starts with 3 levels, each has 3 layers about 10 cm thick
Finish brown layer with small dry stalks and dry leaves
Begin 10 cm green layer: Green biomass & leaves
End 10 cm thick green layer
Benefits of deep digging:
Quick soil improvement
Nutrients are balanced
High water holding capacity
Roots go deep,plants grow big
No-till for 5 to 7 years before redoing
Add N2 stuffs (3 to 4 handfuls) + wood ashes (3 to 4 handfuls)
Add Subsoil – 10 cm thick

END LEVEL 1: 30 cm thick
3 layers – wet these
BEGIN LEVEL 2: Layer 1-BROWN, Layer 2-GREEN, Layer 3-N2 stuffs + ASH, Layer 4-SUBSOIL
Make Level 2 the same as Level 1 except use only thin stalks and dry leaves in the dry layer.
BEGIN LEVEL 3: Layer 1-BROWN, Layer 2-GREEN, Layer 3-N2 stuffs + ASH, Layer 4-SUBSOIL.
END LEVEL 3: Finishes at about 60 cm deep (surface level) as materials compress.
BEGIN LEVEL 4: Same as Level 3 – Subsoil layer (use it all) will be thick or thin depending on how many stones are removed. If 20 cm thick add 20 Kg compost. If 10 cm thin add 10 Kg compost.
Now make LEVEL 5 from topsoil and compost
Divide topsoil into 4 parts
Mix 3 parts topsoil with 10 kg high N compost and layer onto bed
Add remaining topsoil to bed and smooth it out, ready to plant
For rainy season beds provide good drainage profile
For dry season beds raise bed edges 2 cm to hold in water
Cross sections of finished beds
High N2 stuffs include cow/human urine, composts made with 20% biochar content, vermicomposts
Options
60 cm deep bed. Longest lasting. Labor intensive. Contains most nutrition and holds most water. Plants can root deeply.Maintained with U Bar digger can last 5 to 7 years or more before reconstruction.
30 cm deep bed. Less layers so 50% less nutrition and water holding. Good for shorter rooted plants. May last 2 to 4 years before reconstruction
10 cm deep bed. Made on the surface using compost and mulch. Quick and effective for short term. Can eliminate troublesome weeds with light barrier.