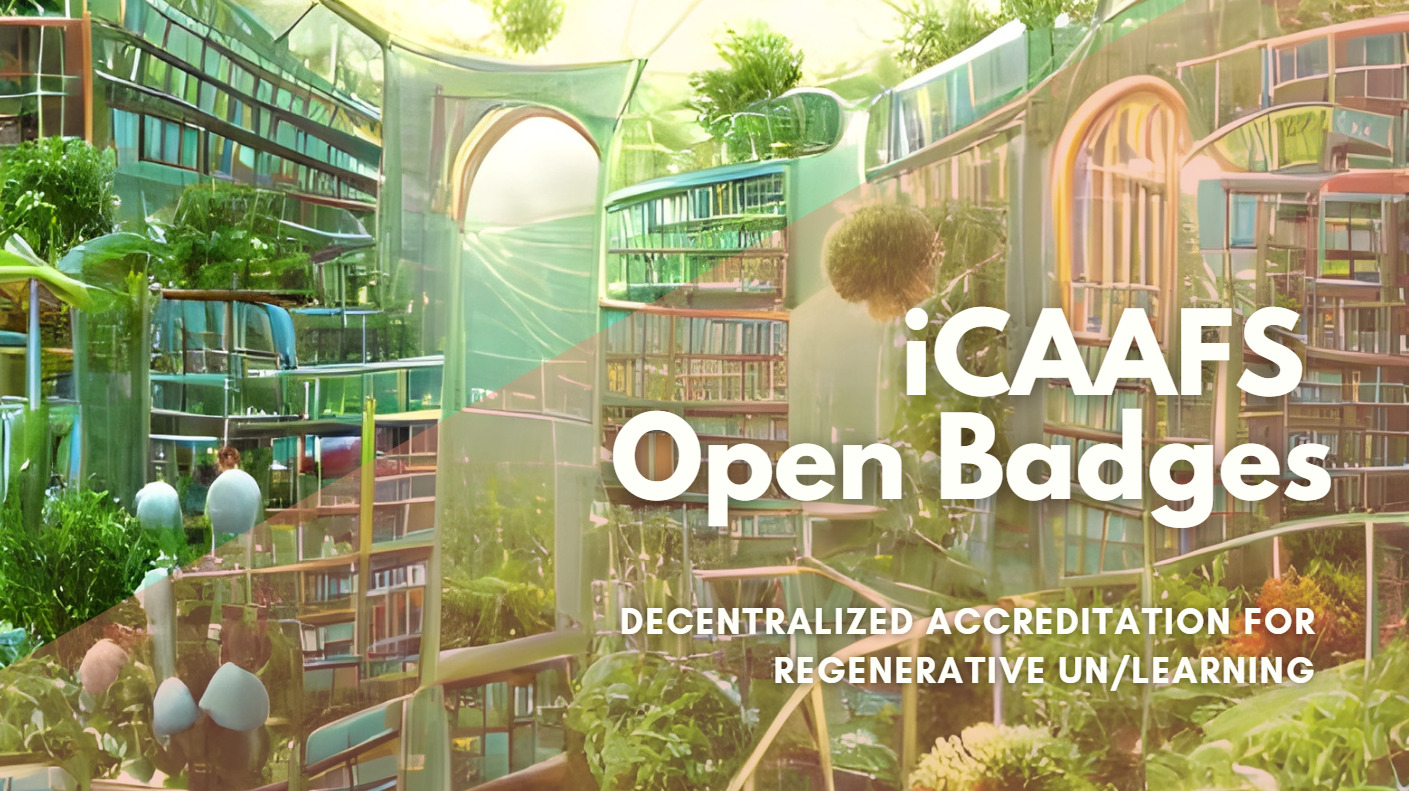 Introduction
The iCAAFS* Open Badge system was created for self-resourcing un/learners and their myriad providers to acknowledge the skills acquired during creative, life-long journeys of regenerative practice. It is a complementary form of accreditation, designed to enable agile, emergent approaches to ecosocial change at all levels to flourish and be validated.
(*iCAAFS = the international Coalition for the Accreditation of Ancient & Future Skills)
The immediate precedent for using digital badges comes from the tech field. In 2011, the Mozilla Foundation created a system of open badges to enable coders, software engineers, and other computer scientists to verify their abilities and knowledge gained mostly outside of formal educational institutions.
Just as many coders learn their skills through self-directed learning (by doing), and need a way to reliably present and legitimize their repertoire to others, the same pattern is present in fields such as permaculture, ecosystem restoration and regenerative enterprise. There is a common need for a coherent set of validation protocols that can reflect the diversity and importance of the kind of self-directed or informal learning which takes place in these spaces. And of course, various forms of decentralized learning have been going on in emergent professions for millennia – well before the advent of digital technology!
Our ecosocial community is well positioned to lead a broader transformation of un/learning spaces, a transformation which is urgently needed. Gaia University has taken the initiative along with our partners in launching an Open Badge system under iCAAFS, which will support flexible knowledge, skill and wisdom acquisition in all fields related to ecosocial change. We seek to challenge the serious problems associated with academic gate-keeping via accreditation systems, uphold a turn towards the decolonization of thinking practices and pedagogies, and create a system which is highly flexible, modular, and openly available for interested parties to use and develop.
This article is the first in a forthcoming series which will explore the issues in-depth, providing an introduction of how an Open Badge system works. We intend this as an invitation to providers and the larger community involved in ecosocial change to collaborate with us in developing a flexible, liberating, regenerative un/learning and accreditation system.
The Problem of Academic Gatekeeping
Steep barriers to accreditation exist in higher education today through exorbitant expenses and burdensome administrative requirements. As a result, academic institutions have become increasingly dependent on large corporate or government grants. This has not only corporatized the operation of universities, it has also reinforced the imposition of managerial and colonial thinking in the pedagogy which is offered and upheld. To conform with corporate bureaucracy, the un/learner's own interests and trajectory is typically subordinated to institutional requirements, and teachers themselves are frequently forced to distort their own pedagogies and curricula as well.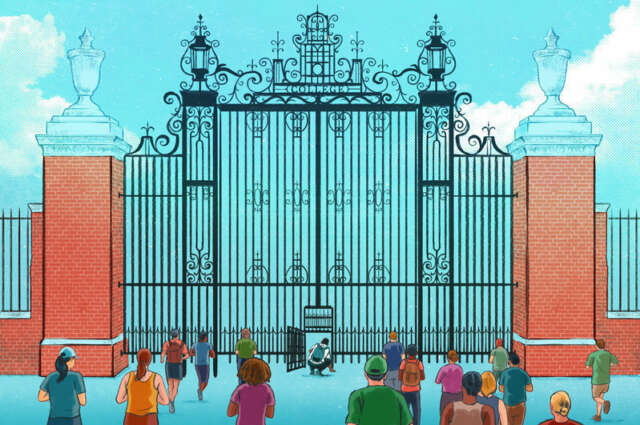 As a remedy for this dilemma, the iCAAFS Open Badge System enables providers to deliver recognized courses and un/learners to access more diverse courses, while incorporating action learning and the ability to swap credits between providers in the ecosystem. By giving both un/learners and teachers the opportunity to define their own priorities and trajectory in an ongoing and iterative fashion, iCAAFS opens up an educational space free from the socio-economic pressures of corporatization and academic gatekeeping.
Decolonizing Education
A flexible and autonomous approach to un/learning is nothing new. It has been the hallmark of Indigenous pedagogies for thousands upon thousands of years, and has only recently been contested and eroded on a global scale by the advent of European colonization.
As described by Tyson Yunkaporta in Sand Talk, one of the hallmarks of Indigenous ways of learning is how knowledge is generated from an open-ended and ongoing relationship with the land and its communities:
"Community members… need to operate autonomously… to form complex learning communities. The patterns and innovations emerging from these ecosystems of practice are startling, transformative and cannot be designed or maintained by a single manager or external authority. They cannot even be imagined outside of a community operating this way."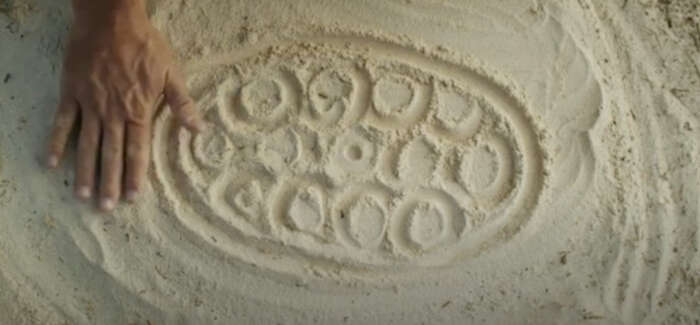 iCAAFS is not a replacement for any such pedagogical community or practice. Rather, as informed by the insights of Yunkaporta and many other Indigenous thinkers, it is designed to strengthen the ability of such devalued un/learning processes and outcomes to be respected. Students, teachers, communities, and organizations will all be able to use the platform to collectively help shift the terms of legitimacy. Towards this end, the design of iCAAFS is both iterative and committed to the decolonization of education, centering the flexibility and autonomy necessary to respect the particular contexts through which this practice and process may unfold.
The Value of the Open Badge System
An Open Badge is a content-rich representation of skills and/or experience. Through a variety of customizable metadata, it enables un/learners to display their achievements in a form which is directly linked to their description. This enables accreditation to work in a trustless fashion (without a big institution backing the process), because the un/learner's work is directly embedded in the badge. Anyone thus has the ability to check this metadata, and employers, institutions, or partners can all verify skills or experiences by means of the badge itself.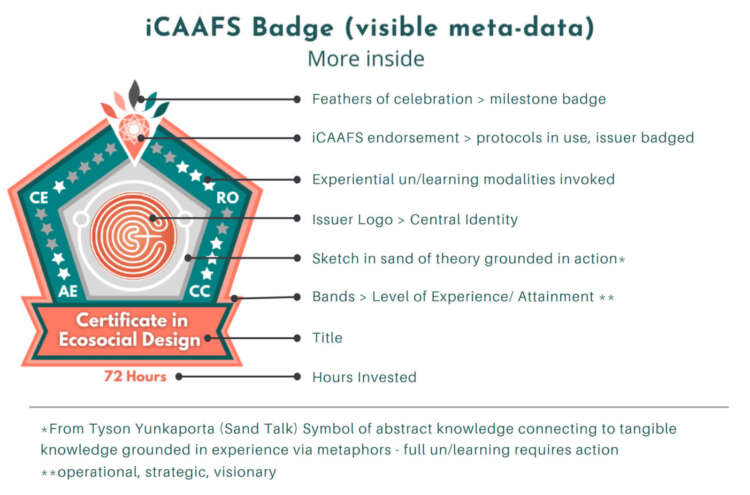 The above diagram illustrates a prototype badge formula developed by Gaia University for our Ecosocial Design Certificate Course. With eight customizable modules (and the potential for more), it enables the representation of information that goes far beyond quantitative grading. Connections can easily be drawn with other un/learning practices, Indigenous knowledge systems can be honored and centered, and a wide variety of metrics are available to highlight important contexts and communal processes which may otherwise go overlooked.
The flexibility of iCAAFS' open badge system enables a wide range of institutional (non)affiliations to be present or absent without implying a difference in legitimacy, only one of context. This enables open badges to either be issued by providers or un/learners themselves, as long as the requisite proof is attached. They are thus capable of representing as diverse a range of skills and experiences as running a challenging marathon to taking a permaculture design course or having proficiency in making mycelial compost. The iCAAFS open badge system is therefore open-ended and customizable, both in terms of the content being represented and in the means of doing so.
Towards Active Experimentation
We are excited to announce that we are starting to work with early adopters of iCAAFS Open Badges as we actively design the first sets of badges with our peers and partners. Whether you are an un/learner or provider, if you are interested in collaborating, seeking badges, or interested in experimenting with us as we continue to develop and grow the system, please get in touch!
And feel free to reply in the comments with any feedback, questions, or thoughts on the following prompts for discussion:
* Have you ever experienced academic gatekeeping? How do you think Open Badges can help solve this problem?
* How are you, your community, or your organization involved in decolonizing education? How could Open Badges support your work?