A Sampling of Our Current Associates…
Below you can explore a sampling of current Gaia University associates. Read about why they chose Gaia University and their wide-ranging learning and unlearning adventures!
Also be sure to check out some of our distinguished Alumni.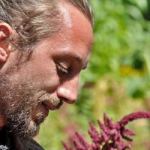 Grifen Hope was born in New Zealand in 1976 and grew up in an alternative community. Immersed in patterns of sustainability, he developed a repertoire of basic values, knowledge and skills for living simply and designing resilient systems. As a teenager, Grifen discovered permaculture and later began exploring regenerative design with an international community of people with a shared vision for a different future.
After completing a degree in Resource and Environmental Planning from Massey University, Grifen shifted away from his formal career pathway, opting instead to apply his planning skills through the Taranaki Environmental Education Trust. Grifen learned his trade here and began practicing as a teacher, designer and facilitator for sustainability.
In 2007, Grifen traveled to Chile with his partner, Javiera Carrión, another Gaia University regional organizer. Together they realized that an opportunity existed to hasten the development of the Transition Movement in Latin America. As they looked around for support to develop a regional center of the Permaculture Master Plan, Gaia University emerged as a viable option for: developing competency in Literacy for Sustainability, attaining a masters degree in Integrative Ecosocial Design and helping to develop the center they had envisioned.
Thanks to the support of Gaia University, among others, a center for the Great Reskilling called Ecoescuela El Manzano is alive and well in Chile today – a living school that represents Gaia University, The Permaculture Research Institute and Transition Towns. It is now possible to find accelerated learning pathways for resilience in Chile through which people can develop the competencies needed to get themselves and their communities through the transition, thus avoiding a seemingly inevitable collapse. You can read more about Grifen and his projects here.
Gaia University has enabled me to sharpen my skills as a regenerative designer. With the support of an international community, a project is developing that is my own living thesis of permaculture practice. This began by asking, 'How can I act in a way that empowers others to organize for sustainability?'
My role in the world has been clarified and a long term pathway begun – one that is already enabling me to realize my dreams. I am emerging as a practiced sustainability professional, collaborating with a learning community of leaders, from local to global, to bring a new world into being.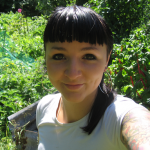 Nicole Vosper is a permaculture designer, agroecologist and community organizer based in Somerset, UK. She came to Gaia University having avoided the traditional university system; her life experience had made her realise that life is too short to dedicate energy to anything she is not 100% passionate about. From the age of ten Nicole's dominant life interest has been working to end animal exploitation, a journey which has taken her around the world, to prison and back. In prison, however, she was given the opportunity to complete a permaculture design course via distance learning while working in the prison gardens.
This experience completely changed her life and perspective, and Nicole now seeks to integrate her passions for animal and human liberation with permaculture design and wider land use practices. Ultimately realizing that how we relate to the land shapes all of our social relations, Nicole's research interests are now orientated around how we can establish ecologically and socially beneficial systems without exploitation.
In her accelerated Bachelor's degree, Nicole focused on developing her family's smallholding into a permaculture education center and resilient ecosystem. She has explored her work as an organizer in local community food movements, learning from peasant movements in the Global South about food sovereignty and farmer-to-farmer models of spreading agroecology techniques. She explored a liberation permaculture framework and the wider practices of regenerative land use and design, to give her the baseline set of skills she needs to be an effective designer and organizer.
In her open-topic Master's degree, Nicole is focusing on political agroecology; how we can accelerate the speed and scale of a transition to agroecology and dismantle models of industrial agriculture. Her research work has led her to explore the capitalist food system and its relationship to the state, as well as different forms of oppression like racism, classism, sexism, and speciesism. She has focused on education for agroecology, deconstructing and decolonising science, as well as how to cultivate resilience to repression in social movements.
Before Gaia University, Nicole worked in social care, as a Youth Editor for Positive News and as a full-time grassroots organizer for numerous campaigns. Despite dropping out of college, she never lost her love of learning; instead she focused on learning by doing and studying occasional part-time courses with the Open University. Now, with Gaia University, she has finally found a system of self-education with a network of support, from all four corners of the globe. No longer do her projects have to be sidelined, instead, they can take center stage as they become the focus of her learning.
In 2013, Nicole started her worker's co-op, Feed Avalon, which works towards ecological and socially-just food production in her local area. Nicole coordinates the EAT Project, organising accessible education and training in food system skills for low-income families. Feed Avalon organise grassroots projects, have satellite community gardens and even a mushroom lab. Nicole also runs her own design consultancy, called Empty Cages Design, offering advice and support to people developing plant-based systems. She teaches an annual Vegan Permaculture Design Course and writes for international audiences on agroecology, permaculture and social justice.
"I have never felt so liberated in my life until I started with Gaia University and realized that I was completely responsible for my own learning. The fact that I can design my pathway completely around my own desires, projects and commitments to changing this world has been the ultimate empowerment. No longer does study have to feel like a distraction from everything else I want to do, now I can be supported by a worldwide community to maximize the effectiveness of my work and focus energy on the most important areas of my life.
"Nothing is devalued and learning can be harvested from everything in your life – from your reading to your relationships, the entire time you are on your Gaia University path you are supported to reflect, design and take action to leverage the positive impact of your pathway. I would encourage anyone who finds the traditional education system in their country disempowering, or oppressive, or limiting to their creativity in any way to consider taking a leap into the world of Gaia University. Life is too short to focus your energy on anything that you do not 100% hold in your heart. This is why I have chosen this pathway, one of the best decisions I have ever made."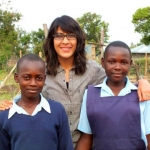 Sheena is a nature enthusiast, passionate about ecosocial change and community development. Born and raised in Nairobi, Kenya, with Indian origins. She has been fortunate enough to have traveled around the World, engaging in culture, interactions, and experiences.
Her journey along the permaculture path began in 2011, having been brought up in a developing country, determined to find solutions, she quit her teaching job to devote her life to community development projects and enrolled in a PDC on an island off the Eastern part of the Great African Lakes, Lake Victoria. Sheena eventually spent almost a year volunteering at a local orphanage where she helped spearhead a tree planting project of 500 saplings and children's gardening projects. She eventually helped establish the school and implemented holistic permaculture design to gradually turn the Children's Home into a self-sustained community till 2012, providing healthy and nutritious food to the children. These experiences completely changed her life by deepening all these valuable concepts to prepare and respond in these times of great transition.
She is now currently working with the Permaculture Research Institute of Kenya as their Education Program Manager and helping co-manage their new Regenerative Enterprise Program. Fortunate to be working with PRI and the farmer co-ops so closely, Sheena is seeing that permaculture is spreading like wildfire in East Africa and communities are responding positively. Sheena is also currently studying International Permaculture Design with Gaia University.
"Gaia University has been really inspiring! It is empowering me to design a better and healthier lifestyle and learning path, connecting me to a network of like-minded world changers which is absolutely gratifying. I am struck by the level of engagement and meaningful dialogue between the advisers and associates."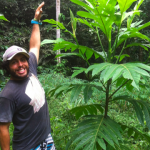 Fernando Maldonado was born in Guatemala to a Puerto Rican mother and a Guatemalan father. This upbringing formed a distinct way of life for him. Living in between these two different cultures diversified his eco-social lens. Guatemala sensitized him about social injustice, food security, and multicultural and biological diversity. Puerto Rico taught him about strong family values, a connection to the ocean and plants, connection to food and empowered him to pursue what he wanted in life.
This background has taken Fernando on a life long journey that started with seven years of working and studying in Florida. During this time, he attended the two following universities: Florida Tech University and Indian River State College. While obtaining his degree's, he worked for Harbor Branch Oceanographic Institute and Ocean Reefs & Aquariums. Toward the end of this journey, Fernando attended a short course on aquaponics at the University of Virgin Islands. Later on, in Guatemala City, he built an aquaponics demonstration system. His interest in plants grew, and after a life changing trip to Australia, he was given the opportunity to manage a community garden project for the municipality of Guatemala City. In 2013, he took a 1-year contract to manage Punta Mona Center for Sustainability and Education. Fernando recently completed this 1-year commitment and is now doing his Master's degree with Gaia University. He is also actively involved in project SERES, a NGO, doing environmental youth leardership work in Central America.
"I first learned about permaculture in Punta Mona. Since then I started to research more about permaculture and I remember coming across the Gaia University website. I thought it was a very interesting way of learning. Four years later, I was back to Punta Mona, this time as a worker. Here I met a friend of mine who was undertaking the Master's degree at Gaia University and was enjoying it very much. I went back to the website and decided to enroll. So far, I have enjoy the program very much. I have been able to look back on my career and observe patterns and key experiences. Now I feel more empowered to design my future life career path and to document it. I appreciate that I can move around different countries while pursuing my MSc."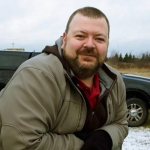 Charles is a Mechanical Engineer from Canada. He has over 15 years of national and international professional experiences in transportation, energy, safety, and emissions research, development, and demonstration projects. Throughout his career, he has always been focused on high technology, environmental sustainability and international cooperation. He has worked with the United Nations, the International Partnership for a Hydrogen Economy, and the International Energy Agency. Having travelled the world working with chief scientists and engineers, Nobel Prize winners, distinguished universities and research labs, he has been fortunate to participate in the development of many interesting technologies and solutions. He has worked with some of the brightest minds in the world, but the best solution he has found during his travels was not a technology at all, it was a design science – permaculture
This discovery made him realize that technology was not always the answer. Nature is the source for life, not a resource to be exploited. With permaculture as his guide, he shifted his ways to make sure he worked with natures' assets as well as respected the code of ethics he had promised to adhere to as an engineer, a public servant, and now a permaculture enthusiast. However, he soon found himself at odds with his profession and could no longer see himself working in this sector. He wanted to work with nature, not to exploit her. He wanted to serve the public, not their political masters. Realizing this, he left his career in 2012 and returned to his Canadian hometown and started pursuing a new life focused with a permaculture inspired lens.
Charles has since settled on a 75 acre property in the Acadian Forest of Atlantic Canada. His new passion (permaculture) has guided him well during this transition and has also helped him reconnect with nature, and in turn, himself. He is now working with nature and his community, for the planet, the people, and our future.  As Principal Consultant and Founder of Midori Permatech, a permaculture engineering and consulting firm he opened in 2013, he is also pursuing a Master's of Science degree in Applied Permaculture Design with Gaia University.
"I am really enjoying my experience with Gaia University. It is proving to be a wonderful learning experience and guide as I build my life anew. The subject areas covered in the foundation curriculum, accompanied with the advising services, are also proving to be very effective and useful as I navigate my learning pathway and plan for a future inspired by permaculture."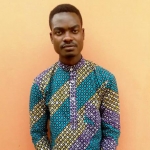 An individual passionate about Biodiversity conservation and Sustainable lifestyles and Education for youths, Herman is currently combining an M.Sc in Integrative EcoSocial Design with Gaia University while volunteering with Better World Cameroon, as Inter-cultural consultant and also playing a major role in their wide array of activities at the Bafut Ecovillage project.
Koh Herman was born and raised in Yaoundé, the capital city of Cameroon where he grew up in a contemporary community. Cameroon is a bilingual country with Yaoundé made up hugely of a French-speaking population. Immersed in patterns of sustainability from a very young age, he developed an array of basic values, knowledge and skills for living a simple life, as his parents (both descendants of farmers) were gardeners at the time; with very low incomes. As a teenager, Herman discovered and lived through permaculture in the form of horticulture, and was a member of the Better World Students Nature Club (BSNC) where he contributed in dealing with issues related to community hygiene, water and sanitation projects in urban and rural settings.
This was until he completed high school and later had to leave for University. After completing a degree in Sociology and Anthropology from the University of Buea, Herman opted to further his studies at the University of Yaoundé 1, in a bid to gain more insight on life and the direction in which to steer his career pathway. There he obtained a degree in Sociology of Development and as fate would have it, he gladly answered the call of the Ndanifor Permaculture Ecovillage (NPE), a growing movement which was established by his father during his tender childhood years, then known as "Royal gardens"; a permaculture floral business which aimed at reinstalling the love for nature in the hearts of people, through landscape design and flower gardens.
Having had a love for the Arts (music, dance, design and fashion e.t.c) from a very young age; upon his arrival in Bamenda, the current region for Better World projects, Herman quickly got to work and took keen participation in establishing youth policies that promote entrepreneurship, leadership and advocate for youth participation in governance; through the development and implementation of a project (Terra Nova Center) which aims at facilitating the delivery of transformative learning programs in response to emerging needs and most importantly, to disseminate grass-roots wisdom through learning communities. By doing so, he has succeeded in creating a rich background in Permaculture, Sustainable development and more specifically in developing links and partnerships with the Bafut council and schools in Cameroon.
"Gaia University has enabled me to broaden my knowledge and hone my skills as a regenerative designer. With the support of an international community, I'm developing a project which is my own living testimonial of permaculture practice. My role in the world is gradually shaping out and my long term career pathway has begun.
"I strongly believe that capacity development, leadership and policy making in communities; develop excellent communication and interaction skills. Thus, educating and sensitizing the local populations and communities, directly involved in one way or the other with the sustainable management of their environment, it is conceivable that precise emphasis can be laid on the preponderance of preserving our resources and in turn promoting the exploitation of other valuable under-looked resources."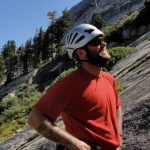 Lawrence was born in Chicago, where he realized soon enough that he needed to be in the wild. He therefore left Chicago and hitchhiked around the United States, jumping trains and walking clear across the country, all the while searching for his place. During his journeys, he learned that he thrived in the wilderness and learned best by doing. These realizations lead him to attend Prescott College, where he completed his Bachelor's degree in Adventure Education. Lawrence continued on to work at Prescott as an instructor with the Wilderness Orientation program. He also began working for Outward Bound, where he currently works in a leadership role. While out on extended backcountry trips, Lawrence gains much insight from working with the staff and students in nature.
Lawrence spent the last 15 years working with teens, young adults and mature adults in a variety of wilderness settings across the world. He has worked for a variety of different outdoor education programs as well as universities and small non-profits. Lawrence finds that bringing people into the wilderness is a great equalizer as this is where people are all treated the same regardless of their background, skin color or income level. Lawrence is passionate about working with people in the wilderness, where they gain a better sense of self by challenging themselves. He is committed to preserving wild lands, connecting people and nature, and exploring one's internal wilderness.
In 2012, Lawrence met a Gaia University graduate in Marin County and the two became fast friends. On their adventures together, building ponds, harvesting food and circumambulation on Mount Tamalpiasis, Lawrence learned about Gaia University. Lawrence was amazed such a school existed, and soon he applied and was accepted to Gaia U. His experience in the Master of Science program has left him feeling excited, inspired, connected and engaged. Lawrence is grateful for the path that led him to Gaia U and he is looking forward to the adventures ahead. Lawrence and his partner live where the seasons take them.
"Un/learning with Gaia U has been a refreshing experience, and has opened my eyes, heart and mind to the greater world that exists beyond my scope. I have felt re-inspired to continue to enhance my awareness, which can only benefit the work I do bringing people into the wilderness. Gaia is a beacon of hope in the higher education system and I feel grateful and excited to grow as I follow my pathway."