TUITION FEES for
1st PHASE of a DIPLOMA PROGRAM:
$3,750

A $540 non-refundable deposit is included in your first payment
Different payment options are available to you

Standard payment plan: pay bi-annually
You receive a discount for paying annually
You can also choose an easy quarterly payment plan (includes a administrative fee)
Payments are made taking into account a 12-month calendar year
The Gaia U Climate Steward Scholarship Fund
To assist with your tuition fees, you may apply for a scholarship from our Climate Steward Scholarship Fund. To learn more about that opportunity, click here.
Here is how a scholarship could reduce your tuition fees: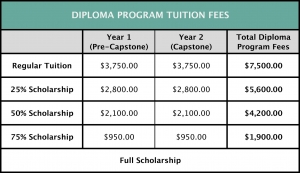 If you wish to apply for a scholarship, please fill out the form that follows your diploma registration form.
Next Steps
Follow the link below to fill out your registration and either pay your first tuition fee or complete the scholarship application form.