Thursday, September 27th at 9am US PDT (16:00 UTC) with Andrew Langford, co-founder of Gaia University.
Register here.
In many respects, we already know what significant and practical aspects of climate stewardship looks like. For example, at least one third of the excess carbon dioxide in the atmosphere can be drawn down into soils just so long as there is adequate moisture available. And, for another, restoration of the small water cycles across the planet, achieved through reforestation and rehydration of the hills, will reduce excess summer temperatures, provide that essential moisture and repair habitat for wildlife species. And yet we are not yet mobilized to do this work on anything like the scale required.
So what gets in the way? My view is that we are partially paralyzed by The Patrix (a Gaia University coinage meaning the 'patriarchal matrix' or matrix of oppression). This ever-present, potent and frequently invisible shape-maker of human cultures consists of thousands of dysfunctional thought patterns (memes) that function as a mutually supporting complex, interlocking system. These memes are installed in our individual, community, and cultural operating systems sometimes by contagion or by accident, and frequently deliberately, by patterns of oppression.
In this webinar, we'll look a little at the threads of The Patrix just to make sure we understand how widespread it is and then look at a few concrete, practical means of contradicting it with, for example, income solidarity and capital sharing systems that allow us to take local action to begin to neutralize global inequality (one of the primary effects of The Patrix, a driver of increasing human stress and a primary limiting factor for people seeking to work FOR ecosocial emergence full time).
Going further, we'll see how the sharp tools of Re-evaluation Counseling, now offered as an online course for Gaia U Associates, is so valuable as a means to dealing with the emotional blocks that arise as we challenge, in ourselves and with other people, the core capitalist notions of income and capital being private property (as in our examples above).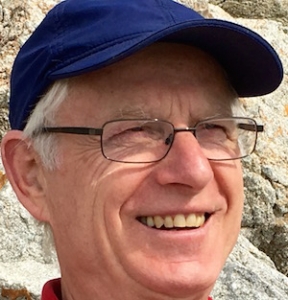 Andrew Langford is co-founder and joint principal of Gaia U. In turn, Gaia U is the culmination of Andrew's continuing 35-year history as a permaculture designer, a career preceded by 10 years 'leading from the bench' as a small-is-beautiful shoemaker.
Current R&D work under the Gaia U umbrella includes gathering a complete range of methods, consumables and tools to enable regenerative, water-wise almond orchards. These incorporate pollinator habitat and support broad-scale restoration of small water cycles designed to rehydrate the landscape and cool peak summer temperatures. This approach requires rising to the (emotional) challenge of downsizing, post-growth, and buen vivir thinking and thus we need to be fluent with Patrix busting to get there.
Register here.