10:00 AM PT/ 1:00 PM ET/ 6:00 PM UTC
Host: Liora Adler, Gaia U co-founder shares Gaia U's new Climate Steward scholarship and the Ecosocial Enterprise Cambia, its promise of a powerful solution to climate change and its challenge. Participatory, inspiring, fun!
Register here.
Description: As record breaking climate change continues to throw our planet into chaos, our response is to create climate stabilization projects and to train up a team of climate actionists who are aware of what's at stake. Now, more than ever, we need to embrace this threat and gear up for immediate action.
In the foreword to the recently published book, Drawdown, Tom Steyer puts it this way: "The stakes for our planet have never been higher. The world is warming, sea levels are rising, and the impacts of climate change are occurring faster and stronger than originally predicted. It is a global crisis with no place for partisan rhetoric, requiring solutions at every scale and across every sector." Add to that crises of soil loss, desertification, deforestation, species extinction, water poisoning and overuse, to name a few, and collectively we face some daunting tasks.
Gaia U has two new powerful solutions to the challenge of climate change. Join us on this important community call to find out more. We are also seeking your input, support or involvement.
We CAN make a difference. As Albert Einstein reminded us: "You can't fix problems with the same mindset that created them." We need well-trained, effective, action-oriented leaders who can assist in the transition of our world to ecosocially regenerative solutions. Building on a broad foundation of action-learning, Gaia U trains and supports the leaders of the next economy as independent thinkers, creative designers, and inspired actioneers. The projects they work on during their Gaia U programs prepare them to add their voices and energy to creating solutions for this century and beyond.
Combining access with effort. Climate Change is an international crisis. We need well trained leaders around the planet. Unfortunately, our world still faces gross inequities in the distribution of and access to resources. It is far easier for a person living in the USA to access resources than it is for someone in Mali, Africa, for instance. Gaia University is firmly embedded within the Permaculture Ethics of Earth Care, People Care and Fair Share. Our student associates' work powerfully reflects and embodies the first two ethics. However, as an organization we grapple with how to bring the third ethic – equitable distribution of resources – more into focus. The most obvious way is through our tuition fees. To put into practice, the 3rd permaculture ethic of Fair Share/Equitable Distribution of Resources and to meet the leadership needs of our planet, Gaia U has created the Climate Steward Scholarship Fund.
Scholarship recipients make their dreams come true. Prospective Associates around the world have dreams for taking action and becoming a significant part of solving the climate crises. They have projects ready to be designed and implemented, and team to join or build. Their main set back has been funding and access to resources. Your contribution will assist us in helping these inspired leaders and innovators from all over the world gain access to the essential training and mentoring Gaia U provides.
Climate stabilization research needed. The Cambia Solution is based on over two years of experimental research under a 45K grant to Gaia University from Lush Cosmetics. It proposes a new operating system for almond growing in CA that deals with the three major issues of this industry, an industry which produces 84% of the world's' almonds while currently using over 11 % of CA's water resources, enough water to supply the city of Los Angeles for three years! The Cambia Solution is a rare gem that helps fix climate change by increasing carbon drawdown by 5 times, reduces water use by up to 50%  and at the same time doubles farm income per acre.
The results of our research were so powerful and far-reaching that we knew we needed to create a plan for adoption of the Cambia Solution throughout the CA almond industry and later expand to other crops and regions of the world. Cambia will co-create with local farmers a Cambia standard of almond orchard–beyond organic–creating drought-hardy and diversified orchards in water-retention landscapes. Using water-wise rootstocks and a fungally-dominant soil-food-web approach we will help farmers to sequester significant levels of carbon dioxide from greenhouse gases and reduce water use while increasing net income — an exciting prospect of making a healthy profit while effecting climate stabilization.
Register here.
Host bio: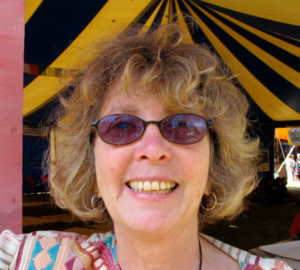 Liora Adler is a visionary social activist, psychologist, holistic nutritionist, facilitator, event organizer,  photographer and dancer. Raised in the era of the 1960's social movements in the USA, she came to understand that protest alone was inadequate for making substantive societal changes. Consequently, throughout the 1970's and 80's she explored intentional community as a means to create a basis for culture that provides both for physical needs and the basic human need to belong to an intimate, purposeful community.
During this time Liora coined the term 'actionist' to describe people who move beyond protesting what they don't want into creating what they do want through local action based on global thinking. Thus, as an actionist, Liora co-founded Huehuecoyotl, a thriving ecovillage in central Mexico, and La Caravana Arcoiris Por la Paz, a mobile ecovillage and training center that traveled throughout Central and South America for 13 years using theater,workshops, conferences and large gatherings to share knowledge about the nature of ecological systems and regenerative living. Liora has been a global leader in the ecovillage movement and was an executive board member of the Global Ecovillage Network from 1999 – 2003. She currently serves on its International Advisory Board and as a representative to the United Nations. She is also an advisory board member of The Global Village Institute for Appropriate Technology.
Liora has helped to create ecovillage and permaculture networks in Colombia, Venezuela, Brazil, Mexico, Ecuador, Peru, Jamaica, Puerto Rico, South Africa, China and Cuba. She was the keynote speaker at the First Global Forum on Standards for Ecovillages and Ecoregions in Beijing, China in 2005 and coordinated both the Workshops for Sustainable Living in Colombia and Ecuador in 2000 and 2001 and the Women's Peace Village Project in Ecuador in 2002. In 2003, she served as the organizing coordinator for the Call of the Condor Gathering in Peru, at which eight hundred representatives from ecological, spiritual, indigenous, peace, bioregional and holistic health groups from around the world gathered to create a ceremonial peace village and celebrate the vernal equinox at Machu Picchu.
Deep personal process work matched by highly strategic work-in-the-world characterize Liora's long term portfolio and philosophy. As co-founder and co-president of Gaia University, Liora has been intimately involved with its design and development from the outset. She coordinates international outreach as well as internal operations, and has been known to lead salsa classes when the mood strikes. Her feisty, outgoing nature, her capacity to negotiate for practical action in challenging situations and her resonance with people living both very simple and highly complex lives are key to the success of the project.
Register here.