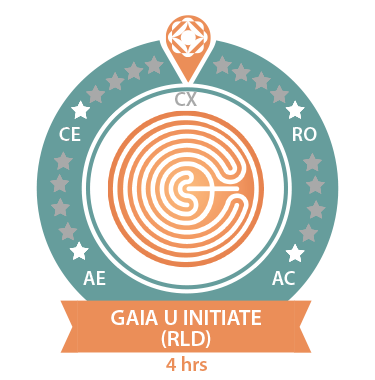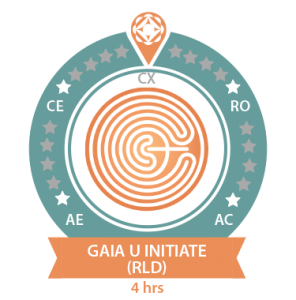 Description
The Gaia U Initiate Award, which can be displayed on your Gaia U profile as well as on social media profiles like LinkedIn, is earned by completing the free introductory course Regenerative Livelihoods by Design at Gaia University. This is a relatively short course, though it includes many links for those who want to investigate more deeply. It consists of 3 modules, each with readings and activities:
Module 1 – A New Economy, A New Narrative
Navigating our way in the context of failing systems
Exploring the transition to a regenerative economy
Tying the larger transition to personal transitions
Learning to see the Patrix and unlearning oppressive patterns
Module 2 – Creating Resilient Communities and Livelihoods
Appreciating the role of community and finding support
Learning to learn within communities of practice
Becoming aware of the 'brain drain' pattern and working towards relocalization
Supporting one another in the pursuit of regenerative livelihood
Module 3 – Designing & Documenting Your Action Learning Pathway
Growing into a skilled action learner
Cultivating a balanced learning practice with Kolb's Cycle of Experiential Learning
Designing and articulating your path forward
Documenting your work and building e-portfolios
After reading the material and completing the activities, the learner completes a follow-up 1-on-1 coaching session with a qualified Gaia U community member to reflect on the experience and talk through their plans for the future.
Criteria
Complete all readings
Post responses to all activity questions
Submit final activity for review
Conduct follow-up coaching session
How to earn this award:
Sign up for the free intro course Regenerative Livelihoods by Design.
Complete all readings and activities.
Use the Calendly link at the end of the Final Activity page to book a coaching session.
Once the mentoring session is done your badge will be on the way.