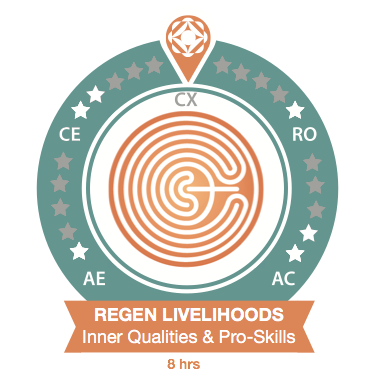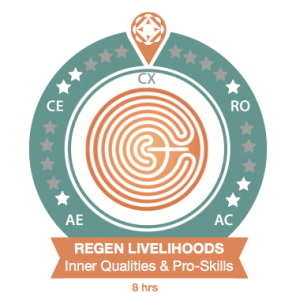 Description
The Gaia U Regenerative Livelihoods (Inner Qualities and Pro-Skills) Award, which can be displayed on your Gaia U profile as well as on social media profiles like LinkedIn, is earned by completing the Creating Regenerative Livelihoods (Part 1) Course at Gaia University. The course takes approximately 6 to 8 hours to complete and consists of 3  Lessons and a collection of related Activites you were expected to complete : –
Lesson 1  Inner Qualities
in which we used the Carol Dweck model to consider our capacities for
then put some attention to how people come to have the beliefs they do in a section on
and observed that beliefs are often shaped by dysfunctional patterns wrought by the imposition of the Patrix in the section called
Lesson 2 – Andrew Learns Trading Skill – A Story
Which started with a warning about relevance and context with regard to
Following which we introduced a model about the progression of learning called
Then continued in storytelling mode as we expanded the case study in a tale titled
The Mermaid Forge – Falling Off the Ladder
which was followed by the beginnings of a redemption story in a section called
Un/Learning Trading Skills and Climbing Back on the Ladder.
Two more short sections added depth to the context surrounding the case study, one being focussed on
The Importance of Community
and the other focused on living well and simply called
Lesson 3 – Trading Skills – The Details
First, we sought to justify the very idea of Trading Skills in a section called
Just What Are Trading Skills?
and delved into detail by describing these next in the following terms
Casinoistic, Sensate and Empirical
and
Becoming a Zestful 'Books' Worm
Next, it was time for a look at
The Lean Canvas as a Diagnostic Tool
Followed by a first dive into the complicated world of costing with
Costings or, How Much to Charge – a lesson that included a number of rules of thumb for various enterprise types
Then came the Activities
We asked you to create
A Mini Life and Career Review (LCR) and a Mini Learning Intentions and Pathway Design (LIPD
both of which are regular devices of reflection and intention setting in Gaia U. We invited you to share any
Learning from Andrew's Story
and directed you to Ash Muraya's website to describe a project of yours by using the
To end the Course we asked you to provide a short
on your experiences working through the material
Criteria
Complete all readings
Post responses to all activity questions
Badge characteristics
With reference to Cynefin, this badge covers a complex topic area
With reference to the Gaia U Learning from Experience model (derived from Kolb) this classroom badge is observational and reflective (1 of 5 stars) and involves acquiring and using new concepts for that purpose that can be arranged in juxtaposition to deal with real-world complexity (2 of 5 stars). There is some active experimentation involved in using the Lean Canvas (1 of 5 stars).  There is sufficient concrete experience required to warrant a score of 2 of 5 stars.
1 Required Step