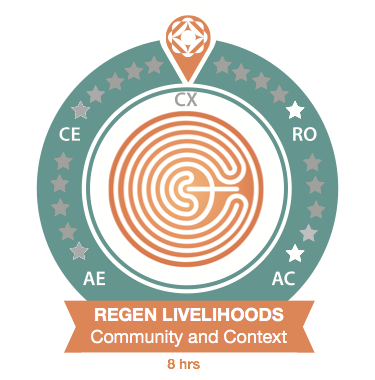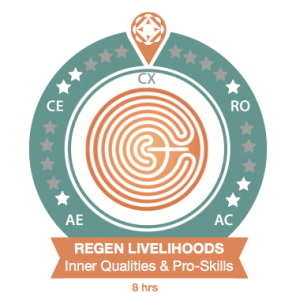 Description
The Gaia U Creating Regenerative Livelihoods (Community and Context) Award can be displayed on your Gaia U profile as well as on social media profiles like LinkedIn. It is earned by completing the Creating Regenerative Livelihoods (Part 2) Course at Gaia University. The course takes approximately 6 to 8 hours to complete and consists of 3 Lessons (including required activities) as shown in the XMind map below.
Criteria
Complete all readings
Post responses to all activity questions
Badge characteristics
With reference to Cynefin, this badge covers a complex topic area
With reference to the Gaia U Learning from Experience model (derived from Kolb) this classroom badge is primarily reflective (1 of 5 stars) and involves acquiring and using new, simple concepts for that purpose that can be arranged in juxtaposition to deal with real-world complexity (1 of 5 stars). There is no significant experimentation involved (0 of 5 stars) and nor is there any extended direct experience required (0 of 5 stars).
3 Required Steps
Completed lesson "2.1 Community and Relationships"
Completed lesson "2.2 World Context"
Completed lesson "2.3 Activities Part 2"