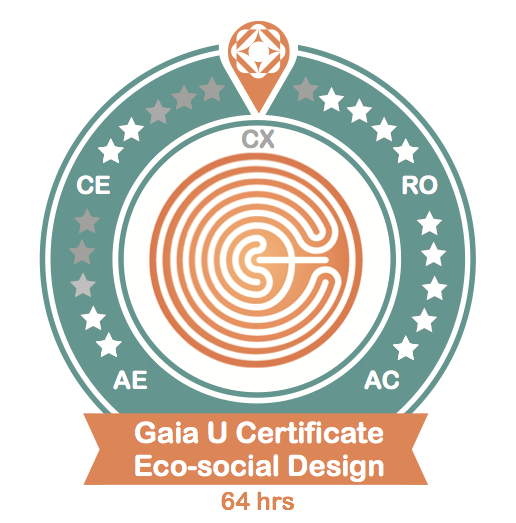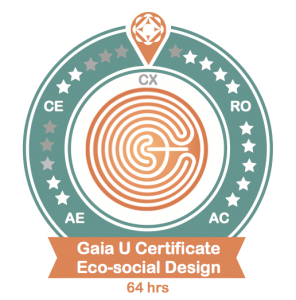 Description
The Gaia U Certificate of Ecosocial Design (Cert ESD) is awarded on successful completion of the Gaia U ESD primer program. The award can be displayed on your Gaia U profile as well as on social media profiles like LinkedIn.
The course takes approximately 64 hours to complete and consists of 8 Topic courses each of which entails completion of multiple activities. A further two Scholar Skills courses and significant experience of collaboration-oriented digital literacy are included : –
Clicking each course title opens the meta-data for that course.
Course 1 – Creating Regenerative Livelihoods – Inner Qualities and Professional Skills
Course 2 – Creating Regenerative Livelihoods – Community and Context
Course 3 – Managing Time, Managing Promises
Supplementary Course Scholar Skills (part 1)
Course 4 – Learning and Unlearning
Supplementary Course Scholar Skills (part 2)
Course 5 – Thinking about Worldviews
Course 6 – Growing Resilient Communities
Course 7 – Project and Design Thinking
Course 8 – Tracking your Un/Learning Journey
Incidental (but by no means insignificant) Course Digital Collaboration Skills – in which the learner navigated courses rendered in Learn Dash (Word Press) including posting comments, uploading attachments and tracking progress; developed good facility in making, sharing and downloading XMind Maps; attended online webinars held using Zoom; engaged in live text streaming, direct messaging and group conversations using the Slack app on the web and on the desktop, used active thinking to support cohort colleagues in developing their thinking and participated in multiple go-arounds to share their own thinking with the cohort.
Criteria
Complete all readings
Post responses to all activity questions
Badge characteristics
With reference to Cynefin, the coursework associated with this badge requires the student to explore a complex field.
With reference to the Gaia U Learning from Experience model (derived from Kolb) this composite classroom badge involves acquiring and using multiple new concepts (5 of 5 stars) that can be arranged in juxtaposition to deal with real-world complexity and calls for significant (4 of 5 stars) observational and reflective activity. There is active experimentation involved (2 of 5 stars) in experimenting with several novel processes and sufficient concrete experience required especially in acquiring Scholar Skills and Digital Collab skills to also warrant a score of 2 of 5 stars.