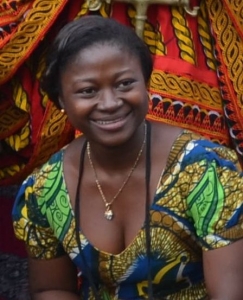 Last year we had an epiphany. An anonymous donor asked how he could help Gaia U. He had heard of our work through a close friend who action-learned with Gaia U and spoke very highly of her experience with us.
Would he offer two Masters degree scholarships for some worthy students from Africa we asked? We had already met a powerful young woman, just 21 years old, who was co-founder and leader of a comprehensive ecovillage project in Cameroon designed to leverage an ecosocial transformation in the region.
Currently working as an organizer for GEN-Africa, Sonita Mbah had been reconnecting young people to the land and carrying out youth entrepreneurship and cross-cultural education programs through youth camps and initiatives related to climate change adaptation. Young adults leading youth is an effective edge for change. One of the many projects she pioneered was with Better World Cameroon to bring fresh water to the Alegnwi community. Many people there were contracting diseases like typhoid and malaria from their drinking water. Now, nearly three years later, the community is healthy and thriving.
In addition to helping communities, Sonita works with young people in cross-cultural youth camps, showing them how to reconnect to and work with the land. Since 2009, she has worked as Public Relations Officer and Administrator, organizing training for women's economic empowerment, youth leadership engagement and introduction to Permaculture for small-scale farmers.
Sonita is certified in Permaculture and Ecovillage Design and has been involved in several agricultural, agro-forestry and youth projects in Cameroon. She is currently combining a Gaia University Masters degree program in Integrative Ecosocial Design, coordinating and facilitating agricultural activities at Bafut Ecovillage and representing NextGEN-Africa. She is passionate about regenerative education and continues to develop as a professional facilitator working with experts from diverse backgrounds.
With our donors blessing we proposed Sonita for one of the scholarships, and to reinforce the projects already underway, later selected her cousin, Herman Koh, for the second.
Now completing the first year of her MSc degree in Integrative Ecosocial Design, Sonita's passion for this work has led her to experiment with establishing a green economy as a solution to both the growing rate of unemployment in her part of rural Africa and to climate change. See this video, filmed at the COP 22 Climate Change Summit, as it speaks eloquently of Sonita's achievements so far.
As you can see, this anonymous donation has made a deep and critical impact, for Sonita and her community and the ripple effect throughout this region will be sizable in the years to come. We need more incredible donors to come to the table and donate to our newly launched Climate Steward Scholarship fund to help make change makers like Sonita get the support and nurturance that they desire from Gaia U. While some folks can sponsor an entire student, many of us can manage smaller amounts. Together, we can pool modest donations to make Gaia U a reality for many more students who would love to attend. We've got great perks for donors, check those out here. (Prospective students, you'll want to check out our Scholarship information page.)
"My studies have provided me with an amazing journey with a strategic focus on social entrepreneurship and Agro-ecology. I have carried out projects on High Value Agricultural Products and Ecovillage Design Education. They are strengthening the economic growth of my community, repurposing our educational system, enhancing permaculture design processes to personal and collective growth.

Developing and implementing such long-lasting projects in local ownership requires a deep understanding of the local context, an extensive knowledge of innovative solutions and a truly participatory approach. In the end, although the days were long and hard, my work this year filled me with pride. That pride confirms and reinvigorates my love for nature and community.

I have, through Gaia U's support, identified blockages, allowed them to manifest and used them as spring boards for opportunities that have continued to shape my life and allowed me to embrace a life of purpose and intention. I have grown with the community, benefited from an easy access to expert support and guidance. This has helped me underpin my knowledge and engagement in diverse fields. I have improved my communication, facilitation and networking skill flexes, built strong support network and optimized my niche in social entrepreneurship and agro-ecological Design.

The financial and moral support of many is at the center of this transformation. It feeds the enthusiasm that has enabled me to weave the work that needs to be done within me, and that which has to be done out in the world."