"The planet does not need more 'successful people.' The planet desperately needs more peacemakers, healers, restorers, storytellers and lovers of all kinds. It needs people to live well in their places. It needs people with the moral courage willing to join the struggle to make the world habitable and humane and these qualities have little to do with success as our culture is the set." – David Orr
A Call To Anyone Who Wants to Help Youth Create the More Beautiful World Our Hearts Know Is Possible
I believe anyone can do absolutely anything.
I believe life is an art and a complex system, and that we must live our lives as if each day were a work of art. As if there are universes in every single thing we see, touch, hear. As if everything we touch is a multiverse. As if there are magic moments to be found in every mundane thing and inconsequential interaction. I believe creating resonance is the most beautiful measure of our interconnectedness.
I grew up in one of the poorest villages of one of the poorest states in India. We had no electricity for water. Our family made chapatis on dirt floors, and we hand pumped our water.  More recently, I lived for two years in the territory of snakes, jaguars, spiders, and monkeys while volunteering in the Amazon and Andes of South America. These experiences brought a visceral perspective to my work.
I am crazy about social and environmental issues: working with young people, building bridges and skylights. I am an artist, scientist, entrepreneur and dreamer. I am a 24 year old daughter of a migrant family to New Zealand, and represented the voice of New Zealand youth on five continents, engaging with 8,000 changemakers from 180 countries. In 2015, I was Runner Up for the Queen's Young Leaders Award from the Royal Commonwealth Society and went on to speak at the UN Youth Congress in Bolivia.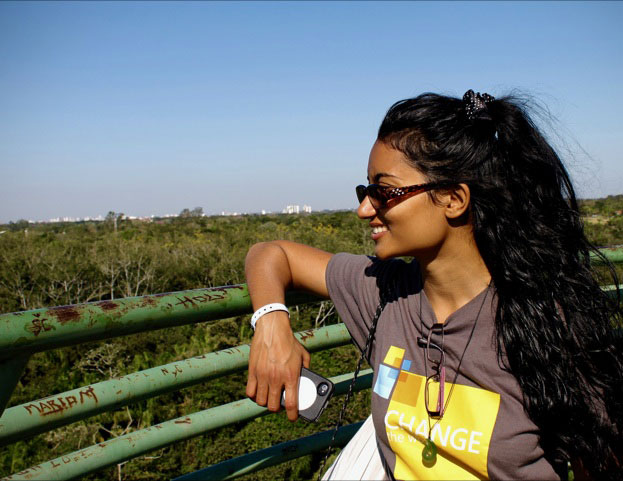 My work so far has allowed me to lead regional, national and sometimes international projects in more than ten NGOs and youth initiatives, while also studying Environmental Economics and Ecology at the University of Auckland. I am now a youth facilitator and permaculture student.
My dream is to study a Masters of Science in Integrative Eco-Social Design at Gaia University, which I consider to be the most cutting-edge, provocative and daring un-institution of higher learning.
I ask you to help make my dream a reality by donating to the Climate Steward Scholarship Fund in my name.
Your gift will enable me to provide transformative, experiential workshops for youth on socio-environmental issues using art, multimedia and storytelling. Your gift will also enable me to learn how to build earth-houses, install renewable technology, design 200 sq m urban gardens that can fully feed a family of four, and further train other young people to do the same.
Read more below to find out about who I am and what makes me come alive.
My Story: Finding Home on Planet Earth
As a woman of Indian descent living with my family in New Zealand, my life has been split between these two cultures. Each one provides me a unique taste of life.
In India, we had no electricity and walked around the house with candles and lanterns. During monsoon season, it rained directly into our living area, and during summer, monkeys jumped from balcony to balcony, stealing our clothes off the washing line and taking lentils, beans and grains we spread out to dry. Sometimes not only our family, but my father's siblings and their families lived in the same house with my grandparents, a parrot, a rabbit and a cow. If we didn't have a cow, we would walk to the milkman in the mornings.
My grandmother was illiterate, and my father was the first person of the village to go to university. From them, I learned a lot about endurance and perseverance. My grandmother could remember events from decades back with lightning sharp memory and accuracy. I never knew my grandfather—he was murdered or kidnapped in the year I was born. One day, he left the house on his scooter to travel by dirt road to the next town. He never came back. My mother's family crossed from the area now known as Pakistan to Punjab in India during Gandhi's time—an exodus that left deep wounds.
I, myself, nearly died twice while living in India. The first danger was a fever that could have left me with permanent brain damage or worse. The second time, I was nearly murdered when I was seven.
In India, the dominant understanding was, 'You are either a doctor, a lawyer or an engineer; or you are nothing. If you migrate out of the country you have "made it". A successful woman needs to get good grades in university in a high-status career to raise her marriage chances and that meant that youth had no life outside of studies.
Young people who were trying to 'be the best' and 'get ahead' did not play sports. They did not engage in social or environmental issues and did not work with art lest it take away precious time spent studying. The rampant competition of one billion people living in a limited space translated to the classroom as well: children were competitive. Starting at age five, each child sat forty exams every year—ten each term.
When we arrived in New Zealand, we lived between a junkyard and a mental hospital. My father's credentials were not recognised. Despite more training than most doctors, he was not allowed to practice as a consultant at the hospital.. We realized subtle forms of racism existed even in a supposedly 'clean and green' country like New Zealand, but we were determined to stay.  We found this country to be so much safer, relaxed and beautiful than the one we left behind. The India I knew was not the India of colours and lights and tigers and jungles and elephants and beautiful women. The India I knew was the country we see in Slumdog Millionaire: rubbish everywhere, pollution, corruption, poverty and inequality—as well as the small moments of magic and love that constantly pushed through it all.
New Zealand—while not perfect—is a country where we can drive for miles past green on green and not see a single other car or human being. It is a country where, if we dropped our wallet, a passer-by would run a hundred or two hundred metres to give it back to us. It is a country where young people in primary school were taken to sustainability camps to learn about dune restoration and native forests. The stark social and environmental contrasts between the two countries amazed me.
The uncertainty of applying for residency and citizenship tested us emotionally. I would come home from school and I would cry. My mother would cry. My little sister would not know what was happening, and my father would lock himself up in his room making endless phone calls. I was 10 when I truly understood what 'intergenerational justice' was really about—wanting your children and their children to have a better life than you did. This is something that transcends boundaries, cultures, languages, worldviews and religions. I realized my parents were working day in and day out to allow my sister and I to live in the 'more beautiful world their hearts [saw] was possible' and just how precious this human yearning truly was. This moment was the beginning of my awakening of social and environmental consciousness.
My Dreams: Shifting Paradigms and Creating New Structures
I have two big dreams for my life and work. The first is in the sociosphere of permaculture: to ignite a generation of youth in New Zealand to 'bring forth a thriving, just and sustainable world'. I love to help youth find passion and purpose on global issues. I don't just run workshops: I aim to create spaces of magic. Of wonder. Of wow. I don't just want to 'manage a project' – I want to take the roof off the building. I want to create spaces of love. Youth are craving spaces where they can take off the masks and be unabashedly authentic, vulnerable, and real. Where they can shout, cry, laugh, sing, dance, embrace and grieve over ecological destruction and social injustice. I hold space for youth grappling with the loneliness, fear, emptiness and disconnection that comes from living in a world where our future is in peril.
I use art, storytelling, dance, music, theatre, videos, poetry and games to tackle complex and dark issues and give youth the tools to lean into the emerging future possibility. My passion is facilitating experiences and experiential trainings such as Generation Waking Up's 'WakeUp' (a youth adaptation of Pachamama Alliance's 'Awakening the Dreamer Symposium'), Non-Violent Communication, Theory U, Deep Ecology, Storytelling for Social Change, Systems Thinking, Infinite Games and The Work that Reconnects. This is the work of shifting paradigms through opening the heart. When I see youth 16-28 years old finally take off the last mask, tell their story and cry, I feel that there is hope for the world. Tears are an expression of the soul. As Joanna Macy writes, 'Blessed be those that mourn, Blessed are those who weep for the desecration of life, because in them life still burns clear…Sorrow [is] in equal measure love. We only mourn what we deeply care for."
I have run these experiences for over 800 youth in three languages and five continents, ranging from 1-3 hours to two week immersions. I've worked in schools, colleges, conferences and trainings. My dream is to deepen this work and contextualise it for Aotearoa New Zealand.
The second dream is more personal and relates to the biosphere and technosphere. I would like to retrofit our family home and design the gardens to be as energy and food self-reliant as possible. This includes piloting the 200 square meter urban garden concept to meet the majority of food requirements for a family of four, showcase the possibilities to New Zealanders—especially youth—for nutritious, systems-based urban gardening on smaller land sections.
Permaculture and sustainable living should not just be limited to those with the means—often adults in full-time jobs who can afford the land or the mortgage to trial regenerative solutions in situ—while struggling youth frantically search for jobs in a tight market to pay off loans, live in small, damp flats or apartments and cannot even think about owning a plot of land one day. I am excited by upskilling myself and youth in creating new structures through small-scale urban permaculture, Fukuoka's beyond-Taoist approach, heritage/heirloom seed saving, nutrient density and eco-building. Specialization is for insects!
Gaia U: Finding My Tribe
Gaia University is a revolution disguised as a university. I think it is one of the few universities that has love and transformation at its core. It truly embraces students as wholehearted beings, and for the first time in my life I have found an institution of higher learning which truly understands complex systems-thinking for planetary healing!
I have always had an enormous amount of wonder for everything. I broke many norms at high school when I studied 10 final-year subjects across languages, sciences/mathematics and commerce. I was madly curious about everything under the sun and went on to win regional, national and international competitions in karate, writing, Spanish, French, gymnastics, poetry, Shakespeare, economics, mathematics, spoken word and visual art.
I tried to study a 'Bachelor of Everything' at university but it was not possible. Yet I saw synergies between disparate fields. I saw bridges between all things. I could not unsee them.
Between 18-20 years of age, I threw myself wholeheartedly into more than ten NGOs and youth organisations on top of my double degree, because I saw that social and environmental change organisations were acting in silos and saw myself as a bridge-builder. I worked on projects in poverty, climate change, social enterprise, health tech and education at regional, national and international scales.
But I didn't just want engage in sponsorship, marketing, fundraising or logistics. I wanted to create magic moments. I wanted to tell stories. I wanted to create spaces for others to do the same. And—most of all—I yearned for my work to face issues at their root causes using a holistic approach. Discovering how social and biological-technological permaculture enables all of these values to flourish has been the biggest gift of my PDC at Auckland Permaculture Workshops in 2013 and in my training as a facilitator of Generation Waking Up in the USA.
Through its systems-based, action-learning approach, Gaia U will enable me to realise my visions for the more beautiful world my heart knows is possible. I will have the delicate scaffolding provided through mentorship, peer review, self-directed project implementation, as well as  support and guidance from those who have blazed the trail before me.
I will learn how to become a better designer, doer and facilitator. I will learn how to balance 'saving the planet' and 'studying the planet' with self-care and 'enjoying the planet'. In a hyper-busy world of work and activism, where we move from being 'human beings' to 'human doings,' self-care is social change. Through my projects in Gaia U, I will be able to deepen my gift to the world and enable others to do so as well.
An Invitation:  I Ask For Your Blessing and Support
As a migrant Indian in New Zealand, my father is (and always was) the sole earner supporting the whole family. He now works seven-days a week supporting my younger sister's tuition abroad and helping me recover from intestinal illness after two years of volunteering in South America. My medical costs have been substantial using holistic healing, but I am now on the upswing!
Over the last two years, I lived on $2-$3 a day while volunteering in remote regions of Peru, Bolivia and Chile.  I ran global citizenship workshops for youth and planned food forests, built hydro-electric vortex for renewable energy, and undertook regenerative gardening. This would not have been possible without the gifts of complete strangers who opened up their homes and lives to me. I was blown away by the poorest of the poor sharing what little they had. I never went hungry and always had a place to sleep.
If you care about the climate, about the land or want to help young people create the 'more beautiful world our hearts know is possible,' I welcome your gift in helping me undertake a Masters Programme at Gaia U and cherish the blessing that comes with it.
I ask you to help make my dream a reality by donating to the Climate Steward Scholarship Fund in my name.
The Nuts and Bolts:  Detailing My Visions for Gaia U Projects
GENERATION WAKING UP
Purpose
To establish Generation Waking Up in Aotearoa New Zealand.
Cause
New Zealand has some of the highest rates of depression, suicide, child poverty and domestic violence in the developed world. We also have one of the highest rates of endemic biodiversity loss and threat, freshwater pollution and greenhouse gas emissions per capita globally.
As young people, this is not the country we wish to inherit nor pass on to future generations. Meanwhile, there exist few opportunities through the education system and other initiatives for youth to engage with peers in a safe, meaningful and deeply transformational manner. Traditional schooling rarely allows for active, values-based and deeply empathetic story-sharing processes to occur. Projects, organisations and campaigns for youth can often be action- and organisation-focused, lacking a deep level of interconnection and holism. Meanwhile, those that do explore our social and ecological purpose, are motivated to meaningful action and connect to a generation-wide 'movement of movements,' such as ReGeneration, are infrequent and bear geographic and financial constraints that mean at most only a hundred or so out of 500,000 youth are reached every year.
Meanwhile, Aotearoa harbours an immense opportunity for being a world-leader in the movement of movements. We share a history of unique heritage and both biological and rich cultural diversity, innovativeness in endeavours, and the daring to address key causes such as women's rights, nuclear weapons and apartheid. We are also poised perfectly at a time in the 21st century where we have access to a wealth of knowledge, networks and technology to enact change. The current political standing echoes the same fragility and public restlessness that preceded the successes of the previous movements in this country. Despite widespread awareness of issues and of powerful, large-scale solutions, apathy, disconnection, inaction and general inertia are still tenets of the present generation. The question is obvious—why?
That is precisely it—the why—or rather, the values are missing from the equation of education and employment for most youth in New Zealand. Strategy (how) is unlikely to bring about the depth and breadth of transformation we dream of in the absence of adequate space and time for the exploration of why: our values that motivate us, the emotional connection to causes, both individual and collective. This is where Generation Waking Up comes in.
Solution
Born under the Amazonian Pachamama Alliance's Awakening the Dreamer Symposium, Generation Waking Up is a global campaign to ignite a movement of young people to bring forth a thriving, just and sustainable world. With open-source, multimedia, interactive workshops, programs and leadership trainings that have reached tens of thousands of young people all across the world to date, our goals include  awakening in young people a clear sense of who we are as a generation, an understanding of the urgent global challenges and opportunities we face, and a calling to take action. This project will empower young people with the training, mentoring, and support needed to thrive as global citizens, leaders, and change agents in the 21st century, and mobilize them locally and globally across issues, geography, and all lines of difference, unleashing the collaborative power of our generation.
Outline
I am a facilitator and trainer for Generation Waking Up, a holistic, multimedia, transformational education program that is centered around unlearning. Through art, videos, games, theater, dance, music, deep dialogue, collective visioning and more, we explore four key questions: "Who Are We?" (personal and collective story/identity as individuals and as a generation), "Where Are We?" (connecting personal stories to global stories, wrestling with the deep grief of socio-environmental issues and issues of human thriving), "What Has to Change?" (worldviews and paradigms; learning to see 'unexamined assumptions,' to unlearn and rewrite them; connecting with indigenous spirituality and interconnectedness over the Story of Separation), "What Do We Do Now?" (asking ourselves what makes us come alive in bringing forth a 'thriving, just and sustainable world'; courageous dreaming).
Impact and Inspiration
So far, I have run workshops and trainings from three hours to two-week long intensives for groups of 10-300 in schools, colleges, campuses and conferences in English (NZ) and Spanish (Bolivia, Chile) for 800+ youth.
I use an interdisciplinary and dynamic facilitation style, with techniques including Theory U (Presencing Institute, Otto Scharmer), NonViolent Communication (Marshall Rosenberg), Story-based Strategy (Smartmeme), Public Narrative (Marshall Ganz), The Work that Reconnects (Joanna Macy), Infinite Games (James Carse; Niki Harre), Deep Ecology (John Seed), Systems Thinking (Donella Meadows), NewGames (Bernard de Koven), Anti-Oppression Training (Challenge Day), World Cafe, Late Nite Art (Adam Rosendahl), Theatre of the Oppressed (Augusto Boal), AQAL (Ken Wilbur), Permaculture as well as psychosomatic practices, mindfulness, meditation, reflective journalling, and acroyoga. I am deeply inspired by the work of Krishnamurti ('The mind must be empty to see clearly.'), Alan Watts, and Brene Brown (TED: 'The Power of Vulnerability') as well as the 'unschooling' philosophy of Sudbury Valley School where there are no grades, exams, teachers, timetables, classes or uniforms and an exquisite social scaffolding is provided through democratic participation and NVC.
What is the role of GenUp in creating the more beautiful world our hearts know is possible?
My dream is the GenUp vision: To ignite a generation of youth to bring forth a thriving, just and sustainable world. I see GenUp as a catalyst for powerful conversations, an ignition spark for youth action on social and environmental change, a radical alternative to Business-As-Usual and Education-As-Usual, an accelerator of permaculture education in New Zealand for youth, a disruptive innovator in the field of global citizenship education, a national exemplar for 'Education for Sustainable Development', and an international role model for similar projects worldwide. My ultimate hope and dream is that GenUp workshops, experiences and trainings serve as an impetus for greater interest and engagement in permaculture education nationally and internationally (including as a 'primer' for Gaia U courses!), with a particular focus on open/adaptive, heart/art based work which is so commonly lacking in the current system.
How will I have supported these systems to evolve?
I will have supported Generation Waking Up to evolve from being a smattering of facilitators nationally, to dozens, if not a hundred facilitators across the country, through not only adapting/customizing WakeUp 'experiences' and delivering them, but also training youth to deliver them, and, as an additional step, training youth astrainers. I will move from being the Lead Facilitator/Founder to Trainer to (potentially) Advisor, nurturing a delicate tapestry of relationships along the way.
My dream would be to gather so much interest for the GenUp model that youth and youth organisations move from being "vaguely curious" in the 3-5 hour WakeUp to clamoring for two-week intensives year-round! As a facilitator, I know how much joy there is in having the luxury of the time to explore key works together; there is nothing compared to a 10-15 hour introduction to Non-Violent Communication, Deep Ecology exercises or Permaculture and Systems Thinking. It is a more fulfilling process for both the facilitator and the (un)learners as we are able to cover much more depth and breadth, go deeper down the 'U', cry more, laugh more, sing more, play more, grapple more with uncomfortable emotions and rise up strong into our wholeheartedness.
I will also have determined what funding model will work best for the GenUp experiences to be sustainable in the long-run, so that all young facilitators may earn part of their livelihood from it. Perhaps it will be the model of gift, inspired by Eisenstein, or perhaps supported through elders. My greatest wish is that the Generation Waking Up will become a movement of its own, expanding and synergizing multiple efforts for the radical awakening of planetary consciousness,  and that fields previously considered irrelevant or marginal will also be embraced and transmuted through contact and inclusion with GenUp.
BIOLOGICAL/TECHNOLOGICAL PERMACULTURE
Permaculture is no doubt my greatest passion. I dream of one day living in nature in a self-reliant manner, combining the thousands of pages of nutritional and health research I have undertaken over the past eight years with regenerative living practices, providing a showcase for what may be possible when all things in well-being are considered holistically. There is no shortage of organisations worldwide that promote healthy body ecology, ancestral nutrition, orthomolecular medicine, nutrient-therapy, CKD and traditional food growing, harvesting, processing, fermenting, storing, soaking and cooking practices. Given that Australia was, in a sense, the birthplace of permaculture as we know it, there is also no shortage of permaculture practitioners across New Zealand. And despite the permaculturists' enthusiasm for organic food and ecologically sound practice, there appears to be a deficit in 'deep knowledge' of human nutrition. Organic is not enough. Zoning is not enough. Achieving near self-sufficiency is not enough. It is not enough when chickens are still fed grain, when soils are not thriving, when the human diet is lacking key vitamins and minerals due to omission (or inclusion) of certain foods. Just because it came out of the ground doesn't make it automatically 'healthy' or nutritious.
Koanga Institute is one of the only organisations I have come across thus far that aptly combines permaculture and human health in a way that recognizes and draws from the subtleties in each field in order to optimise both. Not only are they some of New Zealand's oldest collectors of heritage and heirloom seeds, but also radical innovators in what is possible when heritage/heirloom seed propagation is combined with permaculture design and an unwavering focus on optimum nutrition, so much so, that their 200sqm urban garden that meets over 75% of nutritional requirements for a family of four does not cease to amaze me. http://www.koanga.org.nz/knowledgebase/design-knowledge/200-sq-m-urban-design/ Places such as Mangarara Farms (http://www.mangarara.co.nz/) are also national leaders in Holistic Management and Regenerative Agriculture.
How have these organisations helped create the more beautiful world our hearts know is possible?
I imagine that the work of places such as Mangarara Farms and Koanga Institute in designing highly integrative plant-animal-bacterial-fungal systems for optimum human well-being will be disseminated far and wide to youth and young adults throughout New Zealand. Moreover, through the work of organisations such as APW (Auckland Permaculture Workshops) youth will go from sofa-bound, city-dwelling classroom learners to full actionists that are able to build a house, butcher a cow, climb a mountain, install an irrigation pipe, troubleshoot solar panels, empty a compost toilet, recognise bird calls, fire a clay pot, open-source code a website, mediate a community conflict, fabricate basic textiles, attend to a wound, and heal any chronic disease. As Gaia U writes on their site, 'Specialisation is for insects.'
My inspiration, therefore, is to synergise learnings from:
permaculture
ancestral health
spirituality / mind-body connection
This synergy will be a pilot showcase of a beyond-Taoist approach to permaculture (inspired by Fukuoka) that not only respects the mystery of all life but also weaves together holistic well-being and ecology into its tapestry. Through this, I hope to have concurrently supported my family/home site to transition from 99 percent reliance on purchased goods, especially food, to something less than 25-30 percent reliance on external inputs, with greater self-resilience (/antifragility) in the context of: fragile socio-economic systems (see Korowicz: On the Cusp of Collapse and Dmitry Orlov's The Five Stages of Collapse), critical hub infrastructure lock-in, just-in-time global supply chains and high sensitivity to small fluctuations (in GDP, fossil fuels etc) as well in the context of peak everything.
I will help our home evolve from being a marginal 'tinkerer' to a pilot experimental plot that combines systems-sensing/permaculture, deep nutrition and Fukuoka-inspired spirituality, able to provide almost all nutritional needs for our family of four besides, perhaps, coconut oil and salt. This home-scale permaculture can then evolve into a showcase for the local community, and a model to spread intensive urban gardening across New Zealand. To do this, I would love to be a master of many trades in the field of hands-on sustainability!
What People Are Saying
"What impresses me most about Nalini is her capacity. She is able to maintain an exceptional level of contribution to a wide diversity of causes: political, philosophy, the arts, academic to name a few. She has this capacity because she is disciplined; she keeps herself fit with dance, acrobatics, and yoga. She is calm and focused because she is discerning about her diet; both food and mental stimuli, practicing meditation. She has an exceptional intellect, achieving excellences in her university studies, reading widely and always seeking to engage in conversation of deeper significance.
"And still, her greatest strengths is her ability to engage people. She has an energy and countenance that grabs people. She uses dance in her workshops and enthralls participants with classical piano. She courageously stands up and speaks about matters of sustainability.
"Of the dozens of young environmental leaders that I mentor she is one of the most prodigious."
— Donald Jessep, Gallup Strengths Coach, Internationally Certified Facilitator
"Nalini is one of the most intelligent people I have ever met, with an impressive thirst and enthusiasm for new knowledge and experiences. She is diligent, reliable and self-motivated with high personal integrity and high levels of initiative."
— Gary Marshall, Co-Founder, Auckland Permaculture Workshops
"Nalini is one of the most creative students we have had the pleasure to engage with…  Her interdisciplinary knowledge and experience in the life sciences have given her an advantage over the average student in our faculty.  Her formal academic record is impeccable.
"Be all that as it may, Nalini has rightly engaged with all manner of alternative forms and modes of learning outside the formal education sector.  The list of her experiences and involvement in these alternatives…are more than impressive; they are a testament to her dedication in searching-out new ways of understanding the human condition in all its manifold dimensions.
"Nalini has an intrinsic interest in rethinking standard educational modes.  Her successes in winning various national and international awards are a testament to her fine leadership and team building skills.  All those who come into contact with Nalini will confirm the unrelenting, sharp focus she brings to major learning issues and her extraordinary ability to engage others in the process of deliberation and resolution."
— Prof Anthony Endres, The University of Auckland
Comments from GenUp workshop participants of Siembra Juventud, founded by the UN Secretary General's Youth Envoy for Latin America and the Caribbean (Santa Cruz de la Sierra, Bolivia):
It was like a workshop from Mars. I expected lots of sitting down and listening, but this was nothing like what I expected.
I thought it would be about leadership, but it was really about ourselves as individuals and as a community. We have so much more connection and love in the group now.
I didn't really care about these people I was working with, but now I'm just obsessively fascinated about the lives of every single one. They are all entire worlds within worlds.
Do you ever stop smiling? I only just came in in the afternoon, but in the whole time, I don't think I've seen you not smile once.
At first, it was really hard to share if you really know me. To open up like that, to people who are pretty much strangers. But it was so liberating. I feel lighter now, and I wonder why I didn't do this before, why I don't do this all the time, with anyone and everyone – the people close to me and newly made friends.
Comments on Nalini's GenUp workshops from participants at Orientation Aotearoa, a year-long programme for youth who wish to change the world (Wellington, New Zealand):
"I haven't cried for…damn…for ages. Maybe a decade. But today I did." (Male participant)
"I feel like the dark clouds have lifted and the sun is shining through, I really loved the social justice section. And the Great Turning really reaffirmed the work I am doing in the world."
I ask you to help make my dream a reality by donating to the Climate Steward Scholarship Fund in my name.
Find Me Elsewhere
UNESCO/APCEIU international article on global citizenship education:
The Planet Does Not Need More Successful People: Beyond Education As Usual
Blog posts from my travels and volunteering overseas:
How Do You Know You Are Out of the Matrix?
A Permaculture Analysis of Techno-Utopia
There is No Such Thing As Nature
What Does Being Fully Present Really Mean?
You Don't Travel to Learn, You Travel to Unlearn
My full overview of projects to date:
LinkedIn – Nalini Singh